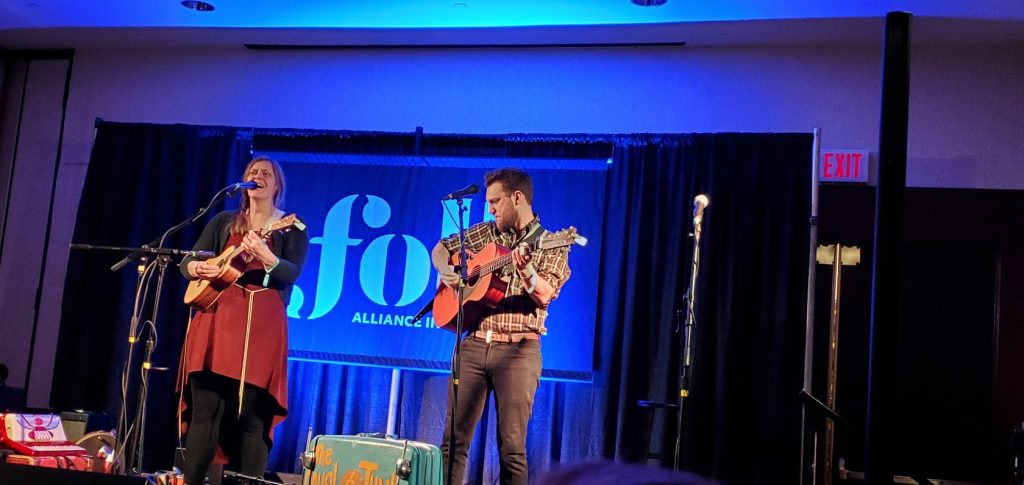 April 23 – The Rough &  Tumble
"Thriftstore-Americana" duo The Rough & Tumble — Mallory Graham and Scott Tyler — are songwriters and storytellers who will have an audience in stitches one minute and falling apart at the seams the next. A decade of relentless touring has earned them the right to trot out the haggard road-worn trope, but they defy that stereotype (and pretty much every other) with their upbeat, commanding stage presence and razor-sharp banter, earworm melodies, and heartstring lyrics.
Mallory and Scott had been writing and performing together for years in other projects by the time The Rough & Tumble was born in 2011. Since then, they've been crowned The Listening Room Network's Artist of the Year… have been an Official Showcase Artist for the Southeast Regional Folk Alliance… and were awarded Americana Song of the Year by the Independent Music Awards. They've released half a dozen acclaimed albums and EPs. I took this photo in Kansas City where they were Official Showcase Artists for Folk Alliance International. I know you'll enjoy this show.