On Sunday, October 1st  we'll begin our new season of house concerts! We're so pleased that our first performer will be Deidre McCalla.  I met Deidre at the 2023 Folk Alliance International Conference where she was one of the speakers in the "Wisdom of the Elders" session. She has been writing and playing music for over 50 years. Click the button to reserve your seat for this show. Following is a little information about Deidre. For more complete information, head over to her website.
Deidre McCalla doesn't merely take the stage – she owns it. Her songs embody hope and celebration, struggle, loss, and longing – sometimes all in one song!
Deidre McCalla – Black woman, mother, lesbian, feminist – has long been in the forefront of Black musicians redefining the understanding of how Black folk do folk. Deidre is riding high on her current release ENDLESS GRACE which dominated the June 2022 Folk Radio Charts as the #1 Album with the #1 Song – Shoulder To The Wheel and the #3 Song – I Do Not Walk This Path Alone, and finished for the year as the #13 Top Album. PopMatters, Rhythms Magazine, and the Folk Alley Listener Favorite's Poll ranked ENDLESS GRACE among the 10 Best Folk Albums for 2022. In 2023 Deidre's song Shoulder To The Wheel won the 19th Annual International Acoustic Music Award for Best Folk/Americana/Roots Song.
Deidre McCalla learned at an early age that life begins with an acoustic guitar and her songwriting reveals an unyieldingly honest perspective expressed with a lyric touch that relentlessly celebrates the power and diversity of the human spirit.
Sing Out! praises Deidre as one of our generation's most important singer-songwriters and The Austin-American Statesmen describes her as a highly distinctive voice in a crowded field of contemporary folk music. With five independent albums to her credit, Deidre McCalla has touched audiences from Maui to Maine, church basements and college coffeehouses to Carnegie Hall.
In 2021 Deidre received a SERFA Award from the Southeast Regional Folk Alliance for distinguished service and exceptional contributions to folk music in the Southeast region of Folk Alliance International. Deidre McCalla's first Olivia Records album DON'T DOUBT IT is included in the LGBT Collection at the Smithsonian Institution's Museum of American History and listed by Ms Magazine as one of 25 Classic Women's Music Albums.
Take a listen to the song, I Do Not Walk This Path Alone from her album "Endless Grace", and check out her website. Then be sure to reserve your seat for the first  show of the season! It's going to be a great show. At NB House Concerts one of our goals is to bring in exceptional musicians from outside of the local area that you ordinarily wouldn't be able to see at any other time, in addition to mixing in a few local favorites. 
CANCELLATION POLICY:  If you make reservations but find that you will be unable to attend, please cancel your reservations asap so we can offer the space to others. Reservation(s) cancelled after midnight Thursday, September 28th and those with unpaid reservations who do not attend, will be asked to send a check made out to Elaine Hayden equal to $30 per each unused reservation. Remember that this is how our artists make their living, and losing money promised for seats we might have filled is very unfortunate. Of course, if you are truly not feeling well, please let us know and stay home. We'll love to have you attend one of the upcoming shows. 
CONCERT DETAILS
Doors will open at 4:30pm. We will have a bit of time to visit before the show starts at 5:00pm.  There will be two sets of music with a potluck dinner in-between. Coffee and Iced Tea will be provided. BYOB. We will be limiting attendance to 40 people so everyone can have space and feel comfortable. During the break you'll also have a chance to speak with the musicians as well as other attendees – truly a VIP experience!
Remember, the suggested donation for this show is $30/person. Anything extra would be sincerely appreciated. As always, 100% of your donations go to the artists. Make your reservations by signing up at the link below. Once received, I will send you a quick confirmation email. 
It's going to be a great evening of music. Hope to see you on Sunday, October 1st. And, as always, thank you so much for continuing to support our musicians.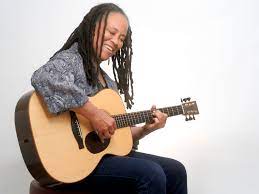 When the band begins to play, those seated in the living room are instantly connected by the music resonating from the small stage.
Megan Holt
Herald-Zeitung